The Yacón is a perennial plant grown in the Andes of Perú for its crisp, sweet-tasting tubers. The texture and flavour are very similar to jicama mainly differing in that yacon has some slightly sweet resinous and floral (similar to violet) undertones to its flavor. This flavoring is probably due to a sweet substance called inulin, as replicates the sweet taste found in the roots of elecampane, which also contains this substance. Another name for the yacón is Peruvian ground apple. The tuber is composed mostly of water and fructo-oligosaccharides.
Commonly called "jicama" in Ecuador, yacón is sometimes confused with this unrelated plant. Yacón is actually a close relative of the sunflower and Jerusalem artichoke. The plants produce propagation roots and storage tubers. Propagation roots grow just under the soil surface and produce new growing points that will become next year's aerial parts. These roots resemble Jerusalem artichokes. Storage tubers are large and edible.
These edible tubers contain inulin, an indigestible sugar, which means that although they have a sweet flavor, the tubers contain fewer calories than would be expected.
Yacón plants can grow to over 2 meters in height and produce small, yellow inconspicuous flowers at the end of the growing season. Unlike many other root vegetables domesticated by the Indigenous Peoples of the Andes (olluco, oca), the yacón is not photoperiod sensitive, and can produce a commercial yield in the tropics.
Yacón provides for two nutritional products: the yacón syrup and yacón tea. Both products are popular among diabetic people and dieters because the sugar these products contain is not absorbed by humans. This form of sugar, known as FOS (fructooligosaccharide), a special type of fructose, leaves the body undigested.
The syrup is also a prebiotic which means that it feeds the friendly bacteria in the colon that boost the immune system and help digestion.
The tubers can be eaten raw as a refreshing treat on their own, finely sliced and mixed into salads,boiled or baked, fried as chips or prepared as a pickle.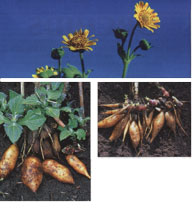 There is also commerical interest as a flavouring for yoghurt.
They are sweet, juicy and almost calorie free. The main stem can also be used like celery. The texture and flavour have been described as a cross between a fresh apple and watermelon.
The plants are vigorous, herbaceous, perennial and extremely hardy tolerating hot summers, drought and poor soils. The foliage of the plant dies back in the winter after flowering at which time the tubers are harvested carefully to avoid damage to the tubers.
They tend to continue sweetening if left in a cool dry and dark place for a week or two before consumption. The offsets are then replanted for the next season.
Below - some home grown crop from one plant.
Below - Second plant - tubers not as good quality.
Below 09/06/11 Third plant - good lot of tubers and replantable material.
The white one has been scrubbed clean under the tap - very easy process. Getting to like them more - they definately are a good snack food. Shared a large one last night with my African students and the whole thing got eaten (they all thought it was a sweet potato and were surprised we would eat it raw). The big one was nicer (sweeter) than the little one I ate earlier.
11/06/11
Added some cubes of Yacon to a chicken casserole a couple of nights back and it was really good - one of those sweet veg that go so well with chicken. Did give me quite a lot of wind though lol. Must be due to that indigestable sugar that they mention. Ate the rest for lunch yesterday......so expecting some wind today lol - lucky students!
13/06/11
Roasted some the other night - this is where they shine! Very nice - Andrew (son) agreed.
24/06/11
Stored some tubers in the pantry for a few weeks  - ends had softened slightly but sweetness had increased.
Added slices to a Thai prawn stir fry and it was absolutely delicious. Kept it's crunchy texture nicely - also added Michelle's water chestnuts :) so the stir fry had lots of textures going on - best I've made and enjoyed.
Still lots to harvest in the garden! I hope they keep ok in the ground for a bit as there is more than I can use quickly.
Recipe below from the Permaculture Research Institute Sunshine Coast:
Yacon syrup 
"Yacon syrup is a sugar substitute native to the Andean region of South America. It is glucose-free, and does not increase blood sugar levels. Because of this, yacon syrup is often recommended as a sweetener to those suffering from diabetes or at risk of becoming diabetic.


The syrup is derived from the roots of the yacon plant, and according to some studies is a good source of antioxidants. The yacon plant tastes similar to jicama, but is biologically closer to the sunflower family. The component that gives the roots a sweet taste is Fructooligosaccharide, or FOS. The tuberous roots may be made of nearly 50% FOS, and are believed to be the greatest producers of the saccharide in the natural world.


Because the body cannot process FOS, it passes through the system without leaving behind absorbable sugar compounds. It also is relatively low in calories, compared to most other sweeteners. "
- Source: www.wisegeek.com
We had an over-abundant supply of yacon that had to be harvested. Yacon (also known as ground apple) grows very easy in our (sub-tropical) climate, one plant produces many rizomes for division and re-planting. It needs very little attention when in the ground and Tom is of the opinion that it improves the soil where it has grown. 


One can only eat so much yacon and we do not like wasting resources, and after visiting a health shop and noticing the latest health craze is yacon syrup, I decided to try and make some. 


I researched a bit on the internet and found that yacon syrup is a healthy sweetener, just what the doctor ordered for us. So if I could get this yacon syrup to work, it would mean we would no longer need to buy any sweeteners, be one step closer to self reliance and receive health benefits.
So I started by digging up a patch of yacon and washing it. To wash it, I put it in a crate and set the hose on it with a fair bit of pressure. I ended up with about 2/3 of a crate of yacon.
I peeled 2 big bowls full of yacon with a potato peeler (about 2/3 of the amount I had). Then I juiced the peeled yacon and poured the juice into a big pot (around 4 1/2 Litres of juice). The pulp ended up with the chickens and the geese.
The pot is on the stove and as you can see some scum is already floating on the top. I kept skimming the scum off the top and once it started to reduce I skimmed it from the sides of the pot as well. 
I brought the pot to the boil and then let it simmer. I started in the afternoon and let it sit on our wood stove overnight. In the morning I brought it to the boil again and skimmed off more scum from the sides and top. By this time the juice had reduced to about 800ml. The juice had become very dark and the smell was a delicious molasses or treacle smell.
I took the pot off the stove and filtered the juice through a fine metal mesh. Any thicker material staying behind I put in a separate container (for use as well, just to experiment with it. It can be added to dishes that require cooking as a sweetener).
Finally I ended up with a jar with 750ml of yacon syrup. It has a beautiful, sweet treacle like flavour. I keep it in the fridge, but I don't think you need to. We add it to drinks, desserts and just use it as a general sweetener. This abundant resource in our garden is allowing us to enjoy healthy sweets and we no longer need to buy other sweeteners. As a comparison, the jar of yacon syrup in the health shop was around 200ml for $24… And it was most likely imported from South America.


Tom is now looking at possible other uses for this resource, eg adding it to animal fodder or making it into a fuel, if he can get to it before I do.
Finished jar of yacon syrup
30.06.12
This years Yakon crops have been dreadful compared with last years.
30.07.12 Another awful crop.