Spring again :)
The weather has warmed within two weeks as usual, which is a delight, but we haven't had rain for many weeks. The tank is almost empty - I've basically stopped using it. On the plus side the bees are very active in the garden, both native and honey galore.
They both love the nasturtium flowers which are blooming in a wonderful variety of colours. I'll miss them when they're gone.
Still cropping plenty of brocolli - both the regular sort and Rapini. Honey bee and native bee are loving all the little flowers (below) on the rocket, mustard and brocollis.
The caulis are finishing up - some of the last below. Not as good value as the brocolli which repeat crops, but still nice to have. The white ones came out quite small, the lime green a little larger and the purple a little larger again.
The carrots have been good producers again. Many aren't classically shaped, sometimes cracked, but always usable and tender. Below is some makings for dinner - Cardoon, Kohlrabi, Rapini, Nasturtium and carrot.
I grew one punnet of Kohlrabi - should find room for more in future as they are really nice. Sweet and crunchy. Some have been slow to bulk up but it has meant they were staggered for use over a period. Not sure if the one in the background will ever bulk up.
Corn is starting to silk up after growing slowly all winter. Might end up with some crop this time! The last two efforts were a total waste of time (faulty seed that created plants that didn't make pollen was the last lot).
I've used the space between the plants to grow other things like Rapini Brocolli and toms.
This salvia has grown around the 2m mark. Very beautiful. Oddly though the bees don't seem to frequent it like they do the smaller salvia.
One of the lime green caulis - very pretty.
Self sown Rocket between the pavers under the clothesline. The tip is around the 2m mark and the bees just love the flowers. I've been taking leaves for sandwiches almost daily.
I kept treading on this when it first came up, never expected it to live let alone become such a hardy giant. I really admire this plant lol.
Still cropping the brocollis daily, both the regular below and the Rapini. Such a value plant!
Rapini below.
Bed 2 below still cropping well. Sugar Snap peas, brocolli, silverbeet, yellow squash (Ikeep forgetting they are there!) and toms (yet to produce). Deer Tongue lettuce up the other end out of view along with the Broad Beans.
Three self sown lettuces (different ones from last year).
No idea what variety but they are really good eating and very hardy. Nothing seems to bother them - not the bugs or heat. They just sit there calmly waiting for me to come steal a couple of leaves each day for sandwiches.
Lush growth from store bought spuds that shot. Such a contrast to the struggling and ratty looking bought jobs.
Kangkong seed in the front pot - some are starting to shoot. Can't wait for these - yum.
Water chestnut in the pot behind actually has some shoots. Might even succeed this time!
19.09.12
Just have to record the tale of the chopped off Tamarillo. Here it is below growing alongside it's normal sized siblings.
Many weeks back, during a bout of rain and wind, one of the Cassavas toppled over taking the Tamarillo beside it down as well.
They both lay there on the ground for days before I had the opportunity to take the saw to them. I struggled to pull the Tamarillo roots out of the ground, thinking it's life was definately over, but had to give it up as too difficult - thought it would be easier once it died all by itself.
Lo and behold! It's come back better than ever.
Maybe all Tamarillos need to be chopped off midway during winter to encourage low growing fruit?!
Yet to see if it tries to reach it's old height, but this could definately be a good thing.
Very, very dry weather. No real rain for months now and the bureau tells us there is a windy hot spell coming at the end of the week. Plants are all struggling in the garden again... deja vu to the long dry. Tiny bit of rain last night, just enough to dampen leaves but not the ground.
My tank is virtually empty and I'm back to using town water with a hose that is too short to reach all the garden! Frustrations.
My contract with Wesley has ended also so having a holiday while job hunting. More frustrations as my net drops out for weeks at a time which impacts on all parts of my life. Telstra tech coming this Friday to hopefully solve the puzzle and fix the problem once and for all. Would be a great end to my holiday to have it fixed! Training work starting with MAT at Northlakes in a few weeks but fingers are crossed for a job with Prescare here at Strathpine.
Andrew has been living with me for the last five weeks since his op on 13th August on his left ankle. He couldn't weight bear for many weeks and is only now just getting mobile. I'm having his unit professionally cleaned this weekend while he's out of it. (04.10.12 weeks later the cleaning job still hasn't been completed).
Meanwhile back in the garden, have redone half of bed one using trimmings from the garden, two bags of manure, sprinkles of minerals and topped off with garden soil from those prissy little 24lt bags they have now at Bunnings (all free though thanks to my rewards vouchers from surveys) - other half is still taken up with carrots and Cardoon. Both still thriving and producing useful crop.
Cardoon is something I never want to be without again. Incredible plant - so hardy and the stems are just wonderful in casseroles and stews. Waiting on some flowers now so I have seed for next year though I still have some left from the original purchase from Bakers Seeds in America. Could even be one of those plants that will grow well in our hot summer. Nothing seems to set it back. NOTE: Email response from BS tells me Cardoon is perennial and has the potential to become a weed if let loose on the environment. It should flower in it's second year.
In the redone end of the bed one (below) I've planted James' climbing beans alongside one of the cheap Bunnings frames and silverbeet seed.
The eggplant is self sown and I'm letting it grow for the moment.
I've pulled out the Sugar Snap peas, which did eventually give some delicious crop, though nothing like the success of last year. These were from saved seed. Start again??
The silverbeet (from bought seedlings) is just starting to provide some leaves - excellent though, had some steamed with a Lamb Shank roast last night and it was good :)
The yellow squash are providing a few small fruit though nothing to rave about.
The brocolli is still going and providing! Love this plant that keeps on giving. Bees are enjoying the flowers also.
The caulis provided one small head per plant and then had to be pulled. Some still remain.
Corn is starting to silk up - quite short plants this lot, from bought seedlings. Toms are starting to grow some green fruit after waiting on them all winter. I hope I get some to eat before the caterpillars do their thing!
My Lychee is too tall (Joseph has been finding videos for me to look at) and it's a bit late to be cutting it back. The top needs to be cut right out - full of rust anyway. Time to move out of this house and leave my mistakes behind lol.
The Persimmon is making a brave effort to send out new growth and maybe create some fruit for me. It's stuck between two tall plants and doesn't get as much sun as it needs.
The waste-of-space Dwarf Pink Shartoot mulberry is making an effort also to prove it deserves to be in the garden. Only reason it's still there is due to my laziness in removing it.
The fruit also looks promising but never comes to nowt.
Elaine has given me some cuttings for what she calls a dwarf black variety of some sort. They're doing well in their pot and just waiting on some rain to soften the ground so I can plant them out.
Some of the Dragon fruit plants are doing well, this one in particular. No idea which one it is but hopeful of some fruit this season. A lot of the stems are growing over the neighbours side of the fence, of course :/ I cut back some I could reach and planted them on my side but it likes the morning sun side of the fence.
Finally cropped most of the Cassava at Joseph's Mums encouragment. Now all I have to do is use it! Just need to sit down, peel it and grate it. Then bake it with sugar to make a slice of sorts. Or steam it.
Looks so unappealing, but I have eaten it prepared this way before and it was truly delicious.
NOTE: This and the rest of the crop ended up in the compost as by the time I cut into them they were going mouldy and veined.  Ate a little bit roasted and it was ok.
Callistemon is blooming much to the delight of the honey bees and nectar feeding birds. Don't see many of the native bees on these flowers though which is always a surprise.
The Nopales (edible cactus ex Addy) are doing well with lots of new paddle growth.
The way it creates new paddles is very pretty to observe, with the little tufts forming first. Love the glossy look of it. Very hardy also, the pot became quite waterlogged during the last heavy rains but it didn't blink an eye, so to speak. Also coping with the current dry. Another good hardy plant to have around for food value.
Should be able to pick and eat one before too long. Another new experience!
See the Nopales blog for videos and information.
Tried some of the Nopales fried up with bacon and egg for breakfast this morning. Not bad, but not what I expected as was told it was "sweet and refreshing". Tasted a little vinegary but not unpleasantly so.
Below - preparation and cooking. Ended up with one tiny spine in my thumb for a few hours despite the paddle being almost spine free and scraped.
The Dwarf Ducasse is doing well. Hopeful for a bunch of narnies before too long.
Broad Bean pod - one of. First time I've grown these and really unimpressed. The pods are watery and tasteless. Will leave some for the big seed but not a lot of point growing them if I don't like them.
NOTE: Ate some chopped up in dinners - both large and small pods. Plants were chopped up when I redid the bed.
01.10.12
The only rain we've had is some piffly drizzle during the night. Just enough to put a little water in the bottom of the tank. I'm starting to put in more seeds and seedlings around the place so must go out daily to water using town supply.
The lovely spring weather is tempered for me by the fact that things are pretty grim (once again) on the employment front.
Andrew is still with me post op, maybe for another week. Erin and Clare had a girls day out with Amanda yesterday (Sunday) and we had bub for most of the day. He's actually quite interested in what's going on in the garden. More interested in plants than dinosaurs!
Below - I'm trying to outwit the rats with a new propogating tray bought from Masters. Using regular potting mix with weed tea in the water holding tray.
NOTE: Daily checks of the seeds shows good results though the Winter Melon seeds are very slow to make a show.
Propogation tray is $15 so not exactly cheap, but beats losing all my seeds to the b. rats. Have managed to exclude the rats from the aviary with a brick blocking the one persistant last hole they keep making (foam and sticks didn't work) and have thrown poison around the ceiling, again.
Below - I'm actually doing well with some Super Sioux tomato plants grown from seed (can't remember where I got the seed!). Bit of a shock to have tom success.
They're supposed to be good in hot dry situations. These get almost daily watering now the weather is heating up.
Below - the Cardoon is still going strong! Wilts a little in the heat, but a small drink soon fixes that. Very hardy stuff. I've emailed Baker Creek Seeds asking about it's lifespan and heat coping capabilities as I can't find anything much on the net. One guy said he cut his back and it came again.
NOTE: Response from BCS tells me the Cardoon are perennial and have weed potential. Flowers come the second year.
Carrots in this bed were from Baker Creek seed also and have given me lots of return. They are all good to eat. Time I redid the bed though.....
Below - after seeing Elaine's giant and delicious Pepino grown in the tub I've been motivated to try a little harder with this wonderful little fruit.
I've created a nice rich area (thanks to Masters $5 25lt bags of manures and mushroom compost) in the front yard and planted three Pepino plants along with another Listada di Gandia bought from Bunnings.
I've put some seed for Butternut Pumpkin in as well. I hope I don't regret doing that - don't want it taking over the front yard. Hugo runs all over this bit of garden near the fence, hence the little bit of protection for the left plant which is where he does his speed turns.
Below - up close of the Pepino flower. You can see it's the same family as potatoes etc.
One of the new member actually posted me some mulberries as a thank you for seed sent, plus Andrew and I collected a bit more from the mulberry tree near Bribie. The end result was a really quite yummy Kefir and Mulberry cake to share with visitors. The sweet mulberries were a perfect foil for the tart, almost lemony, flavour of the Kefir.
I have piles of Cassava and realise I'm just not going to do anything with it. Roasted a few small pieces and it was ok, but I have oodles of the stuff and can't see myself sitting down to scrub and grate it all. Will try to give it away.
NOTE: Noone wanted it, surprise surprise. The lot ended up in the compost as it started to go mouldy and veined.
04.10.12
Still very little rain, but enough some nights to achieve about 1/4 tank of water . Enough to use on the seedlings each morning.
Bed 1 James' Bean seedlings are coming along well. Nearly all came up (two seeded planted per hole). I've also transplanted some of the Deer Tongue Lettuce from Bed 2 before I replenished it and smothered anything still growing - didn't want to lose the opportunity for seed from this prolific and useful little lettuce grown from last years seed.
Elaine has given me some tiny Purslane seedlings - these have also been planted in Bed 1 in the hope that they will grow and flourish (yellow label at the front end of the bed below).
Also planted are Silverbeet seeds - quite a few have come up already. Tiny and fragile until they get a hold and very easily killed off with neglect in their early stage. Daily watering is a must.
One self sown eggplant has been left more out of curiosity than anything. The Cardoon is in the background - now told this is a perennial, so it may be here for some time. Will see how it copes with our summer.
Below - Kuroda carrots are still producing good crop from Bed 1. Some are a funny shape, but they all taste good. The Amarillo (yellow) and Muscade (orange) are also still producing.
HINT: once carrots seeds are established water them sparingly - this makes the roots (carrot) grow down looking for water.
The lush growth around the tank of Salvia, Nastutiums and Cape Gooseberry was becoming tatty. All cut back and piled ready to go into replenishing Bed 3 (see next pic).
Garden trimmings ready to be cut up and go into Bed 3 (behind) once the corn and Kohlrabi have been cropped.
Below - Bed 2 replenished with everything from the compost pile (garden trimmings, rotted grass clippings, fallen leaves etc), some manure (sheep?)and lucerne mix from the Caboolture Mkts ($5 big bag), good sprinkling of Granite (Deco) for potassium and Basalt for calcium and iron, some Organic Xtra, a bag each of chook and cow manure from Masters ($5 a 25lt bag) and topped off with Masters Veg and Tom growing mix (basically compost $5 for 25lt bag) to provide somethig to plant the seeds in.
Reseeded mostly with carrots (Red Kuroda, All Year Round and Harlequin), some Sex Without Strings bush beans and a patch of Hollow Crown Parsnip.
The acid free tom plant has been left from the previous planting (quite nice small round fruit - indeterminate type).
HINT: Allow the indeterminate tomatoes space to ramble along the ground so they can root and provide extra nutrient to the plant for a better crop of fruit. Preferable to encouraging upright growth which limits nutrient uptake.
String Beans (extra long variety from last years saved seed) and a few seed for Spacemaster cucumbers have been planted against the trellis.
Daily watering is necessary to keep the medium moist for the seeds to germinate and take hold.
Below - the corn is once again a disappointment, partly due to lack of rain. No pollen fell as far as I could tell - although these were grown from seedlings this time instead of seed like the last batch, which also didn't create pollen.
The crop from this corn wasn't good (below).  I've looked back over the last two winters for quality - last winter wasn't good, 2010 I did not report on the outcome so suspect it was also bad.
NOTE: winter corn planting experiment most likely shows that it's not really worthwhile for the time and space taken.

06.10.12
Still no rain. One fifth a tank of rainwater left which I use on the seedlings daily.
I've put up one of theVege Nets from Green Harvest and am very pleased with it's ease of erection.
Due to the climbers planted along the trellis I can't clip the net down on that side. From other pics I've seen this probably isn't much of a problem though I'm wondering if full and complete exclusion is needed to keep the bugs out.
I can water directly through the net which was something of a concern. Thought I might have to lift each time.
The clips I bought to go with the net are great. Very practical. Should have bought more while I was about it though.
The banana bunch on the leaning tree are starting to fatten up. Thanks toJoseph and Allan for making the cross frame to keep the plant erect until fruit ripens :)
The covered seed raising tray is a great success. The seedlings stay constantly moist and many have popped up. No sign of the Winter Melon seedlings though. They could just be slow to germinate. Fingers crossed as I really want these!
Below - all dry. Waiting on some rain to be able to plant something around the tank. The Cape Gooseberry has left lots of seed so they should come up on their own next year.
19.10.12
The Nasturtium all reacted to the heat the same way last week and have been pulled and used as green compost in the elevated beds, or mulch in the ground beds.
The Kangkong seed in the wet pot were being coaxed along - a few had sprouted but kept floating to the surface and had to be poked back down, but were looking hopeful. Especially one little plant which was growing well.
Went back to work this week so have had less time in the garden and this morning when I checked the pot (still wet but without visable surface water) and there is nothing left to show for any of the seedlings. Very disappointing. Will have to look out for seedlings to buy as all my seed went into this wet pot.
The Winter Melon seed have finally produced TWO seedling. My goodness these are reluctant, which is surprising as melon seed usually sprout easily.
Have redone the top end of Bed 1 (Cardoon still controlling the middle of the bed) and around 14.10.12 planted Golden Bantam seed from Lost Seed.
Bed 2 - the cucumber and Snake Beans are coming up. Carrots are sparse coming up - could be due to the dreadful hot days that immediatly followed my sowing the seed. I tried to keep them moist, but one day they got a bit dry.
A great patch of cherry toms and Red Amaranth have come up - lord knows how the seeds ended up in a patch of soil straight out of a bag layed down over layers of manure over compost!
Will transfer the Amaranth, which is very nice eating and came from bought seed originally, but the acid cherry toms take over the world and will have to go.
Weed from the hay/lucerne/manure bought from Cab. Mkts is also coming through. Wondering if I should  stick to the well composted 5 in 1 from Bunnings (bought with my gift vouchers so nil cost to me).
Have a few different types of eggplant planted this year - orange, white, some more stripey bi-colours and hopefully some self sown black ones coming up in Bed 1.
Below is a white - could have blossom end rot. My first fruit, so not familiar with the way they normally look.
Bed 3 below waiting to be refreshed. Cucumber and the Winter Melon seedlings to go in here. Roma toms and Black Krim (one out of two remaining alive) from Joseph are still growing in the bed.
Will probably leave them where they are and just build up around them. Does them no harm - they just send out more roots from the buried bits of stem.
Seedlings for this garden.
Bed 1 below - James Beans are doing well, climbing their frame just the way they're supposed to! (yay, something went to plan).
The little lettuce seedlings have fallen victim to caterpillars since I went back to work Monday. While I have been watering twice daily to keep everything moist in the current heat, it just goes to show how a daily close-up visual check is important to keep track of what is happening with your plants.
Some of the transplanted Deer Tongue are now doing very well - would hate to lose all seed for these lovely little lettuces. Nothing much bothers them either.
The self sown eggplant is loving the new manure / minerals and daily water - really hoping this is a black.
The Cardoon turns out to be a good chop and drop plant. Edible and useful as green manure.
Have found quite a few clumps of these tiny golden cocoons with attendant caterpillars (usually these green Cabbage White Butterfly ones).
Some research turned up information on the Apanteles glomeratus (thank you Joseph) which is a natural predator of caterpillars. Now that we know exactly what they are I finally found some video (watch to the end) and photos online.
They hatched really quickly and just took off. No wing drying time like butterflies! The size of a small black ant with clear wings and long active antennae.
26.10.12
Days are either hot, up to 32C, or chilly but still no rain. Luckily :I I'm still not working apart from some part time stuff so I can water seedlings once or twice a day to keep them alive.
Trying to grow silverbeet from seed is proving very frustrating - seed I have don't seem to be very viable (Mr Fotherfills Fordhook Giant with a sow by date of Aug 2014) as not many come up and if they do, the bugs eat the tiny plants off almost before my eyes. I have planted seed many time and have virtually nothing to show for it. Tried half toilet roll holders as protection but something still gets to them. Could even just be the heat on some occassions.
Have put some seed into the seed growing tray with the lid in the hope of growing something to height away from the bed.
Have bought some more clips to hold the Vege Nets down due to some strong winds we had the other day. Didn't blow right off by any means but did come loose here and there. The nets don't seem to do much to reduce the impact of the heat on the beds. The bed on the right is completely sealed off so curious to see how well seedlings go in here.
Those squarish brown beetles have been hatching in dozens out of the beds and become stuck in there. They just sit and don't do any harm.
Below - Jame's Beans are going great guns and have reached the top of the frame and beyond. Have started flowering already. You can see one of the toilet roll holders "protecting" a silverbeet seedling at the very bottom.
Below - Golden Bantam seeds from The Lost Seed - very good rate of germination. Have had to pick some of those hairy brown caterpillars off one or two plants.
How the heck they get into the bed in full blown adult size I would love to know. No sign of any tiny ones.
Below - the Super Sioux seed have grown into a nice semi-determinate plant with quite a few good fruit on it. It's heat tolerant so definately one to grow in the future. Elaine has been given seed.
29.10.12
Cool and relatively moist out this morning.
After a potter and cutting back some of the lanky Salvias past their prime (they make good chop and drop) I've brought in a Nopales pad, a tom and a couple of small white eggplants so have decided to have a bit of a bacon and egg fry up for breakfast.
No doubt about it, the Nopales have a bit of a tang on the tongue. Not unpleasant mixed with the other more subtle flavours.
03.11.12
Below - Golden  Bantam coming along well. Finally had a couple of storms, the last gave about 2.5cm of rain and increased the tank by about 1.5 thousand litres.
Below - Jame's Beans are such a wonderful bean - doing very well. Lettuce were transplanted here so they could seed. Eggplant is self sown.
Growing a few different types of eggplant this year. This is Rosea - bought seedlings.
Below - Brazilian Orange grown from seed, yet to fruit but growing strongly.
Below - Flea Beetle damage to leaves of Listada di Gandia. Always reliable cropper - still coming back from winter with a few small fruit on it.
Below - one of the little Flea Beetles. Cucumber Beetle are also starting to chew on them, plus one baby grasshopper. Everyone seems to like eating Eggplant.
Below - Unknown variety bought as seedling from Caboolture Mkt (looks a lot like the Rosea). First time I've seen possible Flea Beetle damage on the fruit as well. NOTE: cooked this and it was bitter!
Have found a pic online of the Brazilian Orange that I have growing but not fruiting: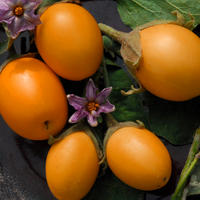 Here's a really good Australian site Know Your Eggplant.
Some of the varieties available worldwide.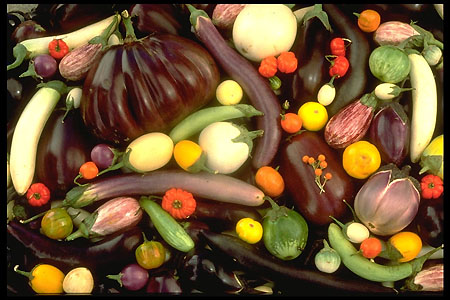 Below - Salvia and Cleome cut back after a bit of rain. Makes good mulch along with the dying nasturtium plants.
Evan's Vetiver is growing well. Was reading the other day about the delightfully perfumed roots - hopefully will have enough growing one day that I can experience this myself.
Below - Around the tank tidied and now regrowing strongly after the application of some cow manure (Masters) and a bit of rain.
Mekong Red Amaranth transplanted from one of the beds where they self sowed. They transplant so easily. Bunnings Zinnea - couldn't resist :)
Below - Lots of lovely cucumber seedlings doing well under the Vege Nets.
Below - The Ceylon Hill Gooseberry bush is growing well. Ocassionally flowers a bit but no sign of fruit setting as yet. Asparagus are making a brave effort to send up shoots but I suspect some plants have died in this dry spot.
Below - Carbonaria bee hive doing very well. Happily bringing back little white, red or yellow pollen sacs on their legs. Would love to know where they are going! Interesting to sit and watch all the coming and goings with bees removing pupae cases on a regular basis.
Days are at least a little overcast with a bit of rain here and there.

Compare the pic taken only 6days ago of the Golden Bantam corn! Such a strong grower.
Below - The Cardoon has started flowering. Big surprise to find these this morning. Tempted to eat one like an Artichoke but I really want some seed.
Below - Bananas getting close to ripening.
....and another bunch on it's way.
Below - Current backyard view. Things under the Vege Net are growing very well. Silverbeet in the netted beds are growing much quicker and without pest problems than the ones on the unnetted bed.
Getting close to the end of Spring and finally some good rain. Wonderful thunder storms yesterday (mid day) and last night, rain all night (more storms for all I know but I slept through it all) and more storms this morning with good rain. The tank is overflowing and I wish I had room for more of them.
The birds are singing everywhere with pleasure. So nice to sit outside and listen to the dripping sounds while sipping tea.
I couldn't help grabbing an umbrella and wandering around checking on and snipping plants. I was conscious all the time of the thunder overhead and the possible stupidity of what I was doing (lightening strike) but couldn't help myself. I just love being in the garden in the rain.
Everything is thriving at the moment. I've bought some Nutri-Tech Total Cover and must try to get some of this around the garden today now that it's rained. Off to one of their field trips next Friday (persimmon farm near Yandina).
Pity I can't capture the raindrops and sounds of thunder!
Managed to mow and whipper snip last Monday so all looking tidy.
Dancing Lady time again :) Edible Hibiscus (red) in the middle - has lovely tangy flavoured leaves.
Below - Jame's Beans are the wonderful croppers - astounding when you think the seed were only planted at the beginning of October, about 6 weeks ago. I get a handful for dinner each night and they are GOOD!
Below - crop on the self sown Tamarillo.
Below - Golden Bantam growing really well. Seed planted around 14.10.12 - four weeks ago!
Below - Custard Apple responding to recent rain with new growth after throwing all it's leaves during the dry. I'm using underneath this tree to put any big garden rubbish. My messy version of the Insect Hotel.
Below - Loving the Vege Net. Protects plants from bugs, heavy rain, sun. Haven't had any hail yet to test it on. May need more clips to hold the mesh down for heavier weather.
Below - Both Abicas are making a healthy comeback after being cut back. Pepino and fig in the background.
Below - Dwarf Black Mulberry courtesy of Elaine's cuttings. I couldn't seperate the different cuttings roots, so planted the whole thing. It had one little sweet fruit on in in the pot :)
Below - Bed 3 growing well - Cardoon still very happy despite the increasing heat, surrounded by the Golden Bantam corn and Jame's Beans.
20.11.12 Below - the giant garlic has been a bit of a let down. At least a couple of the plants died off over their slow growing period. I ended up roasting one of these bulbs with some chicken drummies and they were almost perfumy in their flavour. Didn't taste garlicky which was what I was really looking for.
Below - Lychee has been properly cut back with Andrew's help. Lots of rust in the top leaves has been removed.
All the cuttings have ended up under the custard apple.
Below - green visitor on the roof guttering :)
25.11.12
Spring is almost over.  We've had lots of overcast weather since last weekends storms but no rain. Not too hot most days.
I really like the Vege Nets - they seem to have allowed plants to get a hold without getting burnt or attacked by too many insects, but the plants under them are now bulging at the seams and it's time to remove it. I have kept it sheltering Silverbeet at the end of both beds for the moment.
Below - Direct sown Silverbeet plants in Bed 2 are doing much better than.....
...seedling (my own) sown plants in Bed 3. Despite this, direct sown in Bed 1 did not work over and over again. But that bed was not protected by the Vege Net.
Below - One of the brocolli stumps has reshot. I don't expect much from it but am curious.
Below - James' beans are cropping wonderfully. Handfuls daily and hopefully some seed to share at the Christmas get together.
Below - The Golden Bantam is growing healthy and strong and has reached the top of the frame.
Below - The Red Okra have grown well under the Vege Net. Removed netting this morning, so will see how they fare in full sun from now on.
Below - Mystery plant is growing great guns. I will wait to see what it is before considering removing it.
Below - The Cardoon flowers are colouring up. Next pic is one of them cooked beside two rather large store bought Artichokes (3 for $2 at Lawnton Country Mkts yesterday). None of them gave me much to eat - bit at the base of each leaf to peel off with my teeth was nice. Can't figure out why I like them so much lol.
Below - Cucumbers and carrots Bed 2.
Below - Some of the carrots - patchy germination, most likely due to the very hot days that followed sowing is all I can guess.
Below - Meanwhile, in the general beds some Jicama has shot again by itself (must have missed a bulb when cropping)...
...the Monstera Deliciosa (from seed) is growing ok in a really crappy spot...
...I think these wierd tubers are the Aerial Potatos. They are climbing the Melaleuca and fence...
...a passionfruit has self sown and is also climbing the Melaleuca - the tough looking vine to the left of the trunk is what I think is the Aerial Potato....
...the fig has three little fruit on it after a year of beetle damage and other catastrophes. Disappointing but hopefully more will develop...
...the Dwarf Ducasse has three pups which I will not be removing. In the past when I've done this my bananas just send out more pups anyway! so what is the point (apart from giving them away)....
...Pepino are flowering profusely - the Blue Banded Bees just love these.....
...the Grumichama is growing slowly but steadily in the Brom bed.....
...my one remaining rose, Seduction, is reliably flowering.....
...new Rosemary plant and the resurrected Caperberry bush (below the nasturtium) are doing ok in the rather dry spot beside the tank...
26.11.12
Andrew Cumberland has given us information for making our own Liqueur.
This is the Spiced Plum on the 24.11.12, the day it was made and then today 26.11.12. This batch is pretty expensive due to buying the vodka ($30 for 700ml). If I can learn to make my own spirit using a kit it will bring the price right down.
Have seen this pretty medium sized ant around the place lately, called a Strobe Ant, thanks to Brisbane Insects for identification.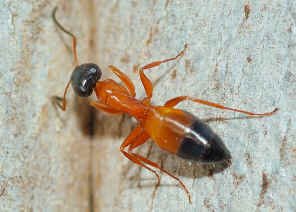 Also returned after winter are the Blue Banded Bees (again thanks to Brisbane Insects for pic as I cannot catch one in flight with my little camera). They just love Salvia, Eggplant and Pepino flowers. The buzzing sound is quite loud so you know when they are around.
Something of interest from the BI site: Blue-banded Bee Males have five blue bands while females have only four. The males have the abdomen tip segment in blue while the female has this segment reduced.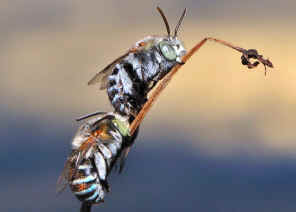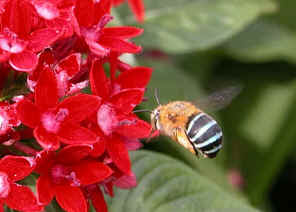 28.11.12
Very hot and humid day. The air is so still - reeks of thunder storm for this arvo.
I've just put down a heap of Yellow Tamarillo seed - will be interesting to see if they grow Yellow fruit in the long run. Bit hard to follow though as I tend to give most of them away lol.
Have French Lavender cuttings on the go along with some salvias and trying the Non Acid Toms from cuttings. So far 4 out of 6 cuttings are surviving well.
I've put the one and only surviving Kangkong seedling into the moist pot and moved the pot to a place of afternoon shade. I do think I need to pot the way of the Water Chestnut, with one pot inside another containing the water. Too hot to do this today.
One of the Cardoon flowers has opened and the colour is glorious. Will watch it's progress with interest and hope for seed.