UPDATED INFORMATION ON THE EXPERIMENT WITH THESE PLANTS HAS BEEN ADDED BELOW.
Collard greens are one of the oldest members of the cabbage family and date back to prehistoric times. They have been used in cooking for centuries.
Thanks to Christa for this very informative LINK.
LINK to conversation relating to the different varieties of Collard available.
I have hankered after Tree Collards (VIDEO showing propagation) for some time. They need to be grown from cutting to remain true but I cannot find them in Australia.
The closest I could find is seed for this Portuguese Walking Stick Collard Greens.There are quite a few people on eBay selling the seed. The ones I buy are Couve galega.
This is the info from Wiki:
Collard greens (collards) are various loose-leafed cultivars of Brassica oleracea, part of the Acephala group, which also contains cabbage and broccoli.
The plants are grown for their large, dark-colored, edible leaves and as a garden ornamental, mainly in Brazil, Portugal, the southern United States, many parts of Africa, Montenegro, Bosnia and Herzegovina, southern Croatia, northern Spain and in northern India. They are classified in the same cultivar group as kale and spring greens, to which they are genetically similar. The name "collard" is a corrupted form of the word "colewort" (the wild cabbage plant).
The plant is also called "couve" in Brazil and in Portugal, "couve galega" or "couve portuguesa" (among several other names) in Cape Verde, "berza" in Spanish-speaking countries, "col" in Colombia, "raštika" in Bosnia and Herzegovina and Croatia and "raštan" in Montenegro and Serbia. In Kashmir, India, it is called "haakh". In Tanzania and Kenya it is more commonly known by its Swahili name, "sukuma wiki", and is often confused with kale. In New Zealand, it is called "dalmatian cabbage".
Supposedly healthier than Kale, Broccoli, mustard greens, sprouts and cabbage it has the ability to bind bile acids in the digestive tract resulting in lower cholesterol. Hmm, have been reading lately that we are too bound up in the whole cholesterol debate and it isn't as bad as the big pharma companies making cholesterol lowering meds like to make out, but there you go.
Supposedly offering cancer protection (is there any plant that doesn't?? there seem to be so many cancer inhibiting "wonder plants" these days) due to glucosinolates found in the plant which detox and provide anti-inflammatory benefits.
I have the notion that the plants are at least semi-perennial but cannot find information at the moment to back this up. I planted my first seed last spring and they are still going strong though they didn't grow well through the hot months, they have picked up through winter. Later planting of seed was very successful producing good strong healthy plants with lots of big leaves.
02.05.16
Aren't I naughty. I didn't write down the original date I planted these seed - just spring. Working back from the pic above taken in June 2015 I planted the seed in spring 2014 - say around October 2014. That makes the plants currently as at this date in May 2016, around 20mths old or getting on for two years. Time sure flies when you're having fun experimenting.
Original description did not give a scientific name: 400+ Seeds Portuguese Cabbage Organic Collard Greens $5.29 free delivery from Portugal. Below is the photo from the ad. Bought 01.10.2014 from eBay.
Now selling under the name of 2011pfreitas the same seeds are on offer HERE as Couve galega for $AU5.77 delivered free.
Below: plants growing in Portugal.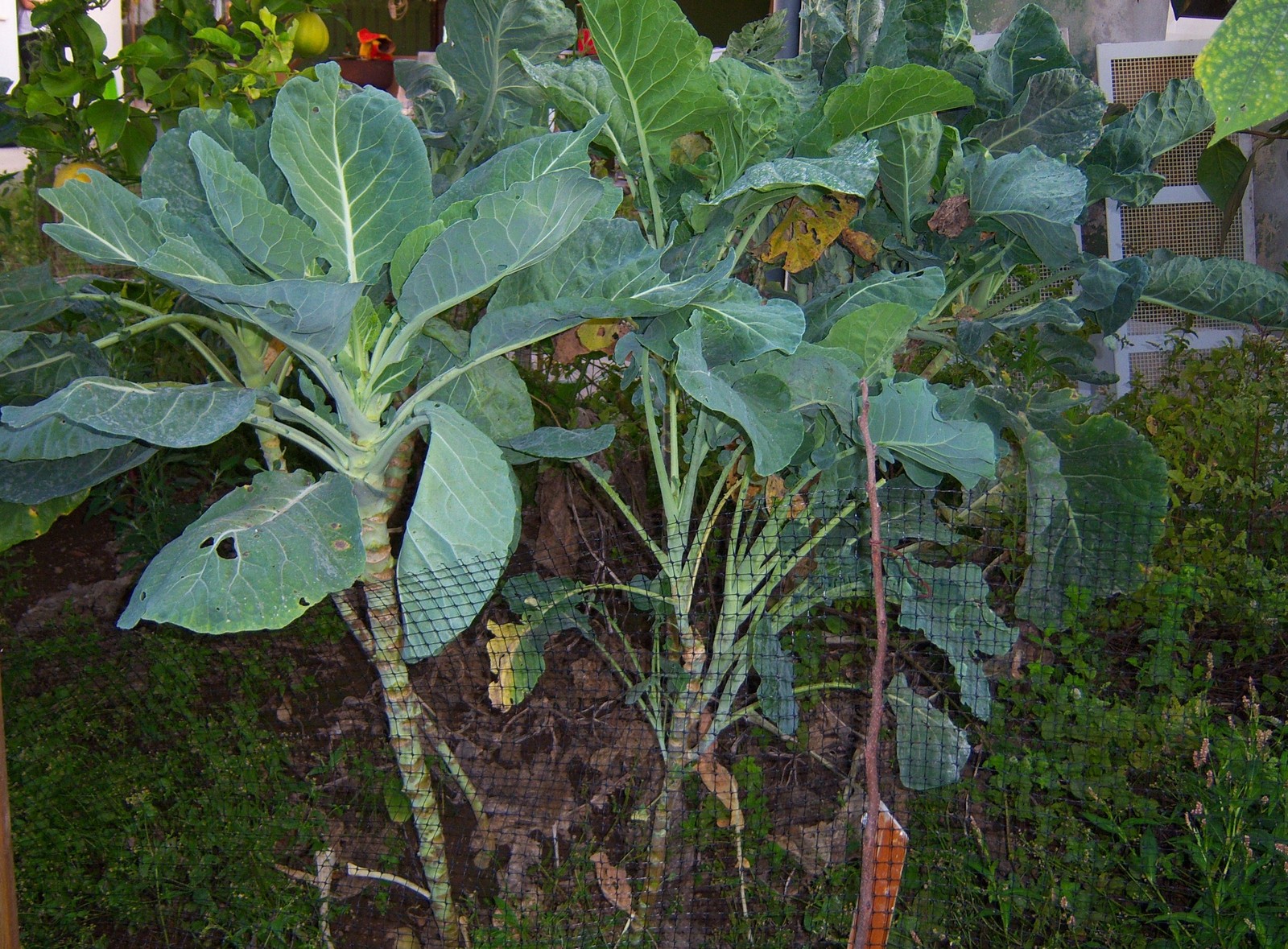 02.05.2016
Maybe half the plants survived another summer but didn't like it. They were severely attacked by aphid and Cabbage White caterpillars. The only support I gave them was to wash off or squash the offending insects occasionally, wanting to see how they coped mostly on their own. Some died - especially if I cut off the majority of their leaves, found it best to leave them on even if ravaged by bugs - and some survived.
The plants seem to have reached their optimal height - about 1m.
The surviving plants are looking pretty gnarly but are still trying to put out nice new leaves. They are also producing a lot of side shoots which this cool, wet morning I have used to attempt to propagate  -cutting them off at the joint, removing the bulk of leaves before planting them into the raised bed.
Some plants have also put out their own ground shoots which look like wonderful new young plants beside their mamas. Nice.
Below: New ground shoot from gnarly old mothers.
Below: Side shoots used for cuttings.
Below: One of the cuttings before removing excess leaves.
Below: Cuttings in two separate beds.
Almost forgot - here's a pic of some flourishing "Collard Greens" bought as seedlings from the Cab Mkt some weeks back. Short plant. The leaves are thinner and more tender than my PWS Collard.
And also the "Purple Tree Collard" bought at great expense on it's own from Daleys some months back. Looks pretty much the same as my PWS Collard but a bit paler...but then I have a fair bit of colour variation with the PWSC grown from seed as well.
17.07.16
The Collards have finally come good mid-winter. I removed all the chewed on leaves this morning and finally have some good looking leaves for eating. 
Some of the original Portuguese Walking Stick Collards grown from seed (from Portugal via eBay for about $5 delivered) about two years ago. Coming good again. Incredible plants. They seem to have reached a certain height and are going no further.
The Daleys Tree Collard- purple leaf Brassica oleracea var. acephala bought at great expense for one plant (around $28 delivered), is also coming good. Slightly different appearance. Sure doesn't look like the plant pictured on the Daleys website though.
From pics I have seen of the Couve tronchuda these look like they - with thick white central veins.
And the Collard bought as seedling from the Caboolture Market, showing no sign of turning into a walking stick version, is also growing well. NOTE: Mid August 2016 and these are spent and dying off. 
I was very neglectful of the cuttings I put in. I tend to plant very densely and the poor wee things didn't stand much of a chance once the other plants started to block out their sun. But certainly one has survived (below). The cutting to it's right may yet come good also.
From Dave - chart showing some of the varieties: