As I've mentioned on occasion, I grow my own 'onions' -- my own Spring Onions./ Scallions/Green Onions.
You can imagine how many I can get through over any one year.
In the heat of Summer, harvest peters out and I need go out and buy bunches.While I have spring onions growing in my patch, I'm handicapped by the absence of accessible seedlings (due to there not being any in this Covid times )so I need to grow my own from seed.
Never that successful for my greenoid thumbs as I've tried to grow many different varieties of Spring Onions with middling success.
I am, you see, Spring Onion dependent in the kitchen and these  are at the base of so much of what I cook.
As for taste and versatility I loves them heaps.
Onions are just onions. A tad sulphuric in taste. Pungent. Not subtle.
Allium fistulosum occupies a core place in my lifestyle.And it is the Welsh I primarily eat.
I've tried to grow Walking Onions (not successfully) -- and, of course, I grow leeks -- but this time of year my garden often comes up short.
So my new workaround is chives. Anyone can grow chives.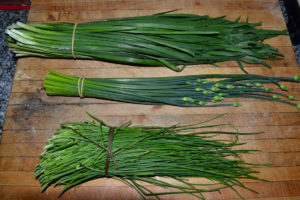 Here's some usefuli information from The Saltshaker:
Some people just don't know their schoenoprasum from their tuberosum. We've all had days like that. Now, most of us are pretty familiar with the type of chive at the bottom of the picture ... the common "French" chive, your Allium schoenoprasum to get all Latin on it. But if you've shopped in an Asian grocery of pretty much any sort, though most particularly Chinese, you may well have seen the other two, the Allium tuberosum, the top one being the "garlic chive" and the middle one being the "flowering garlic chive". They're actually the same plant, the former are the leaves and the latter is the bud stalk of the plant prior to the buds opening into flowers. The Chinese call these gau choy, the Japanese call them nira, and the Koreans refer to them as buchu.
And they too are tasty in a dish.But there is one rider: you need to add them at the end of cooking as heating too much heat reduces their flavour.
I mainly use the 'garlic chive' as it has a better flavour hit. Cooked -- but only added towards the end of cooking. They also make a dish 'pop' if you blend up the stems and add the chives as a green sauce.
Chive sauce is very versatile.
Nice to know that if family members are gut challenged, chives and the green parts of Spring Onions are more FODMAP  friendly than other oniony things.
Then there's the clincher in regard to Chives: they are perennial --so if you work them into your day to day menu there will be many days to chive your cuisine. If you keep dividing the clumps you'll be set for life.