I'm keen to grow a few types of Native Hibiscus.(LINK)
But I'm not sure which varieties grow well here in SEQld.
Does anyone have some pointers as to suitable types?
At least to get me going.
I'll go market nursery shopping next Sunday or the Sunday after and I want to be clued up before then.
If not I'll order seeds...if I can find the ones I want.
Easy cut and plant on...Great flowers ...and edible.
There are more than 300 Hibiscus species that occur mainly in tropical and sub-tropical regions of the world. and among these, Australia has about 40 native species.
However, since I'm also looking to the school garden, some species, I understand, such as Hibiscus diversifolius, H.heterophyllus, H.splendens and Abelmoschus manihot, carry seed pods which are  covered in hairs that may cause severe skin irritation.
[Sticky tape stuck onto the skin and then pulled off appears to be the easiest and most effective way to remove these irritant hairs as well as wearing gloves and using tweezers when extracting seed.]
Any experience of this issue? Is it a brush by issue or do you have to handle the seeds?
Brush by I can deal with.
Australian Hibiscus and Hibiscus-like plants

Click on thumbnail images or plant names for larger images



Abelmoschus moschatus subsp.tuberosus



Alyogyne hakeifolia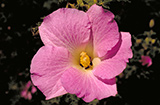 Alyogyne huegelii



Gossypium sturtianum



Hibiscus meraukensis



Hibiscus pentaphyllus



Hibiscus sturtii



Hibiscus splendens



Hibiscus trionum var vesicarius