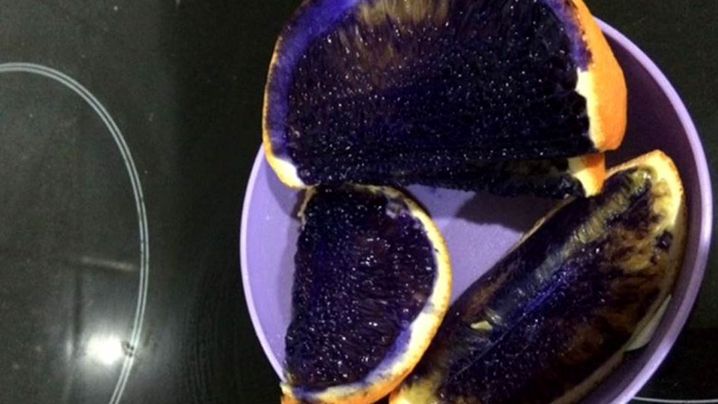 What started as a creeping phenomenon eventually encompassed the entire fruit, according to Mrs Postle. (Angela Postle)
A Queensland mum-of-five has sent oranges away for testing after the fruit bizarrely turned a dark shade of purple when it was sliced and left in a bowl overnight.
Angela Postle told 9news.com.au the oranges were purchased at her local Woolworths store in Chinchilla earlier this month.
"I cut some up and they went in my kids' lunchboxes for school, and I left some out because I was going to give them to my baby.
"I ended up making puree, so they were left in a bowl overnight, then we noticed the purple colour in the morning," she said.
A spokesperson from Western Downs Council confirmed they had sent the oranges to the Darling Downs Public Health Unit at Toowoomba for testing.
Angela Postle said she noticed the strange breakout after the oranges were left overnight. (Angela Postle)
A spokesman for the unit said the oranges had already been dispatched to the Queensland Health Forensic and Scientific Services at Cooper Plains for further examination. No results have been returned at this time.
Mrs Postle said she took the fruit back to the grocery store, concerned the fruit posed a health risk, where she was offered a refund and told the issue would be logged.
She claimed the purple areas did not exhibit a texture or smell any different to a normal orange.
Have you had a similar experience? Let us know by leaving a comment below or emailing us at onlinenews@nine.com.au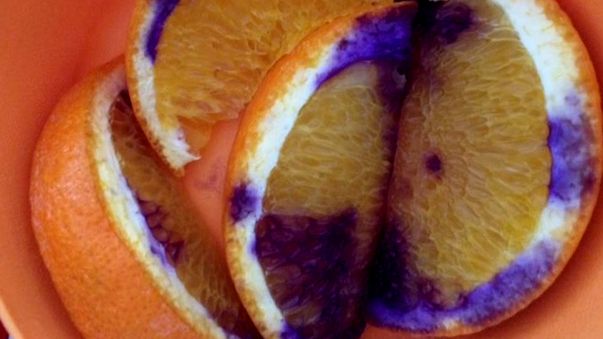 "I've never seen anything like it," said Andrew Harty of Citrus Australia. (Angela Postle)
A Woolworths spokesman confirmed a customer had returned oranges to the store that showed "discolouration" but refused to comment further.
"Woolworths takes the quality of its food very seriously," he said.
It was not clear whether the oranges were grown locally or overseas.
Andrew Harty from Citrus Australia said it was "bizarre" and likely a contamination of the blade used to cut the fruit.
"That's very, very unusual. I've never seen anything like that, and I've been in the game a long time," he said.
Mrs Postle said she took this photo nine days after the contamination was first noticed. (Angela Postle)
"An orange would never do that naturally."
However Mrs Postle said she had washed the knives used to cut the oranges beforehand.
"I tried other knives, even plastic and made sure they were washed under water first, but it made no difference," she said.
John Golding from the NSW Department of Primary Industries agreed it was a mystery.
"I've never seen anything like this," he said.
© ninemsn 2015

Read more at http://www.9news.com.au/national/2015/03/17/17/55/mum-and-health-ex...